GOP Health care bill on the brink (again)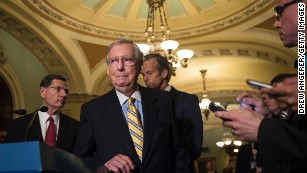 The Senate returns for a critical three-week period when Republicans will try to salvage their health care bill. But it's clearly in deep trouble and they might not be able to save it.
Things are looking especially tough after the bill hung out there over the recess (which Senate Majority Leader Mitch McConnell badly wanted to avoid) and it got battered by voters and senators.
Watch Tuesday's Senate lunch -- that's when we might get the first real indications of the week on which direction leadership is moving, and it'll be an opportunity for leaders to take the temperature of the conference on how they're feeling after the week-long recess.
Maybe the clearest sign that things aren't looking good? President Donald Trump's tweet Monday morning: "I cannot imagine that Congress would dare to leave Washington without a beautiful new HealthCare bill fully approved and ready to go!"
CNN's latest whip count on the "no" votes: 10
At least 10. Sen. John Hoeven of North Dakota became at least the 10th GOP senator to publicly oppose the bill in its current form with remarks he made to local media and a public statement released during the July 4 holiday.
*First caveat: 10 = only the Republicans who have publicly said no. There could be more, and other Republicans -- while perhaps not saying directly that they'd oppose the legislation as written -- described concerns or reservations they had about the current proposal.
*Second caveat: Plenty of the "no" folks have said they want to get to a yes, and some ultimately could.
What's the deal with McConnell?
What he said in Kentucky last week: Republicans might need to work with Democrats to prop up Obamacare if they fail to pass repeal and replace legislation.
No, McConnell isn't giving up on health care, and he's not yet close to pulling the plug. (And these weren't new comments -- McConnell has brought up the possibility of having to work with Democrats to stabilize markets the day he delayed the vote two weeks ago.)
Two ways to read McConnell's comments:
This has been a genuinely difficult process. The needle that he's trying to thread to get to 50 "yes" votes is very, very tough. It's not a secret that there is real frustration about how long the health care exercise has dragged on.
This is a warning shot to Republicans -- They can either suck it up, and vote for a bill that isn't perfect (and it's never going to be perfect for everyone). Or they can let the bill fail and stomach the political reality of reneging on a promise they've been making for years and years -- and the fact that the next necessary step would be to work with Democrats to do damage control on Obamacare.
What happened over the July 4 recess?
Exactly as McConnell had feared and expected -- Senate Republicans got an earful over the July 4 recess. Just a sampling of the political heat GOP senators got when they went home last week:
Hoeven made clear he was against the bill.
Sen. Susan Collins: People in Maine are telling her "they don't want me to support it."
Sen. Jerry Moran: Said at a town hall in Palco, Kansas, that he's still a no, and that the bill would hurt rural communities.
RELATED: Republicans opposing GOP health care plan hear from voters during recess
Sen. Dean Heller, who is currently a "no" on the bill, got yelled at by a man back home to vote for the bill. So the pressure goes both ways.
Protesters cropped up everywhere: Outside Sen. Pat Toomey's office; at a Sen. Ted Cruz event in Texas and inside two offices of Sen. Rob Portman in Ohio.
What happened over the weekend?
Sen. John McCain did not sound optimistic about his party's chances when he told CBS' John Dickerson on "Face the Nation" when he said the health care proposal was "probably going to be dead."
"I fear that it's going to fail, and then we should convene a Republican Conference and say, what are we going to do? Introduce a bill," the Arizona Republican said Sunday. "Say to the Democrats, here's a bill. It doesn't mean they don't -- that they control it. It means they can have amendments considered. And even when they lose, then they're part of the process. That's what democracy is supposed to be all about."
Also Vice President Mike Pence -- who's been active with Hill Republicans' health care discussions -- went horseback riding Saturday with Vice Chairman of the Senate Republican Conference Roy Blunt of Missouri as well as another crucial White House voice on health care: Seema Verma, administrator of the Centers for Medicare and Medicaid Services.
: CNN